Show an ad before the article body starts. Desktop

Security has been stepped up in Washington, D.C., and in states across the U.S. as authorities brace for potential violence this weekend.
Driving the news: Following the Jan. 6 insurrection at the U.S. Capitol by some supporters of President Trump, the FBI has said there could be armed protests in D.C. and in all 50 state capitols in the run-up to President-elect Joe Biden's inauguration Wednesday.
Show ads after 50 words.. Desktop

---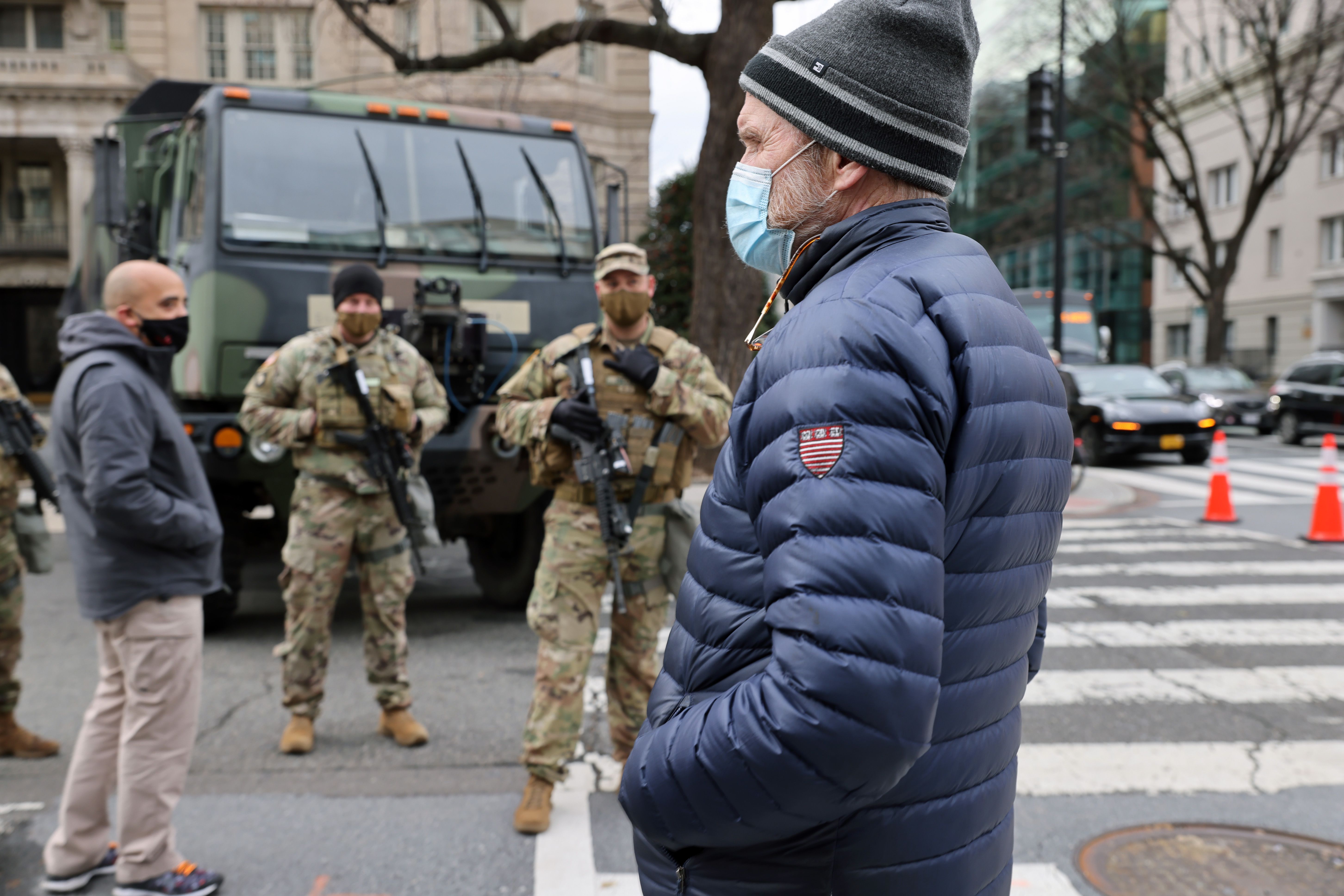 Members of the National Guard at a street junction in Washington, D.C., Jan. 16. Trump has
appealed for calm
and there's been no major trouble so far, though
the Washington Post
notes most rallies are planned for Jan. 17. Photo: Spencer Platt/Getty Images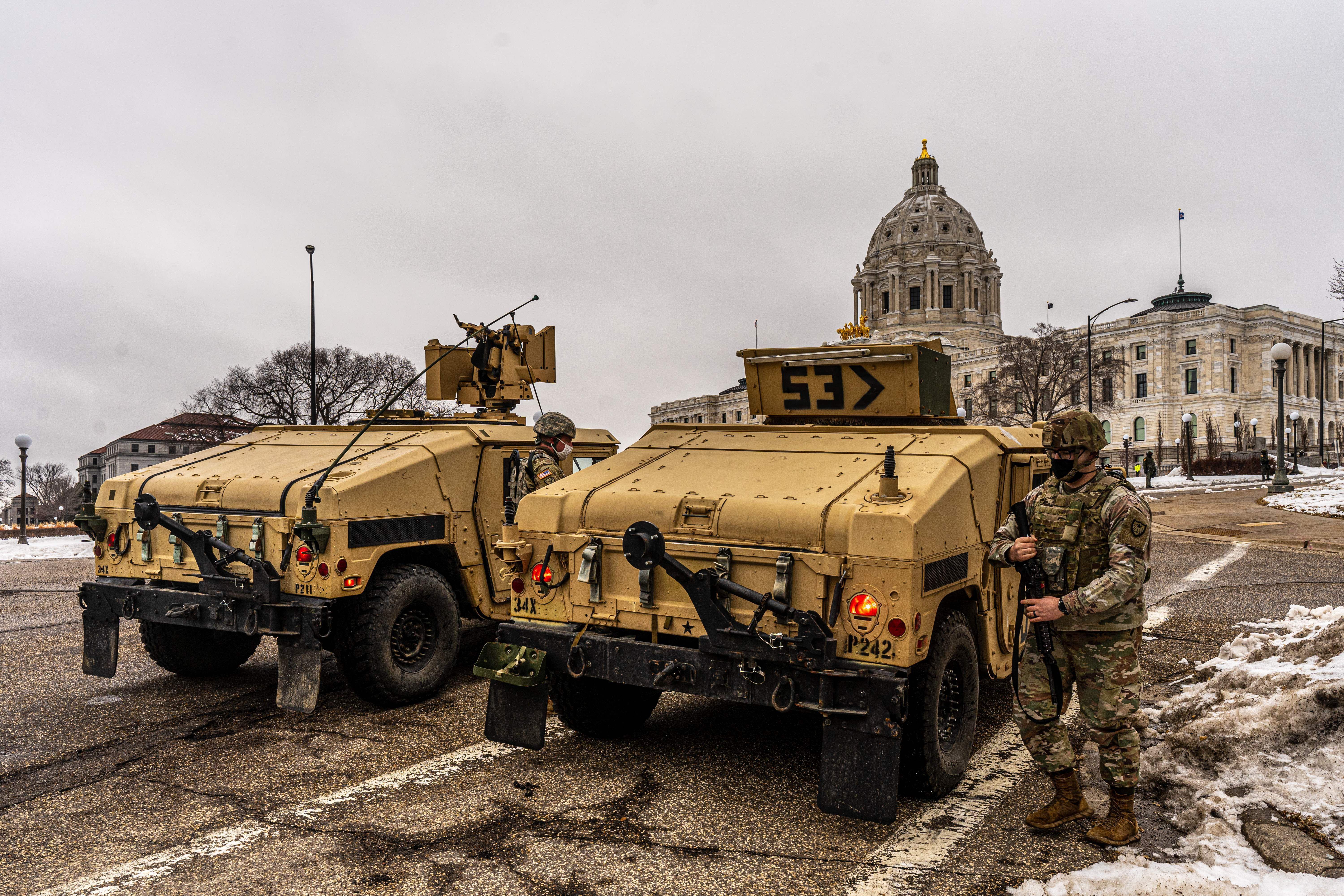 Minnesota officials have beefed up security at the State Capitol in St. Paul Jan. 16, deploying the National Guard and blocking off surrounding roads to protect the building, per Axios Local reporter
Torey Van Oot
. The scene remained quiet, with fewer than two dozen Trump supporters showing up to protest,
reporters in the area
note. Photo: Kerem Yucel/AFP via Getty Images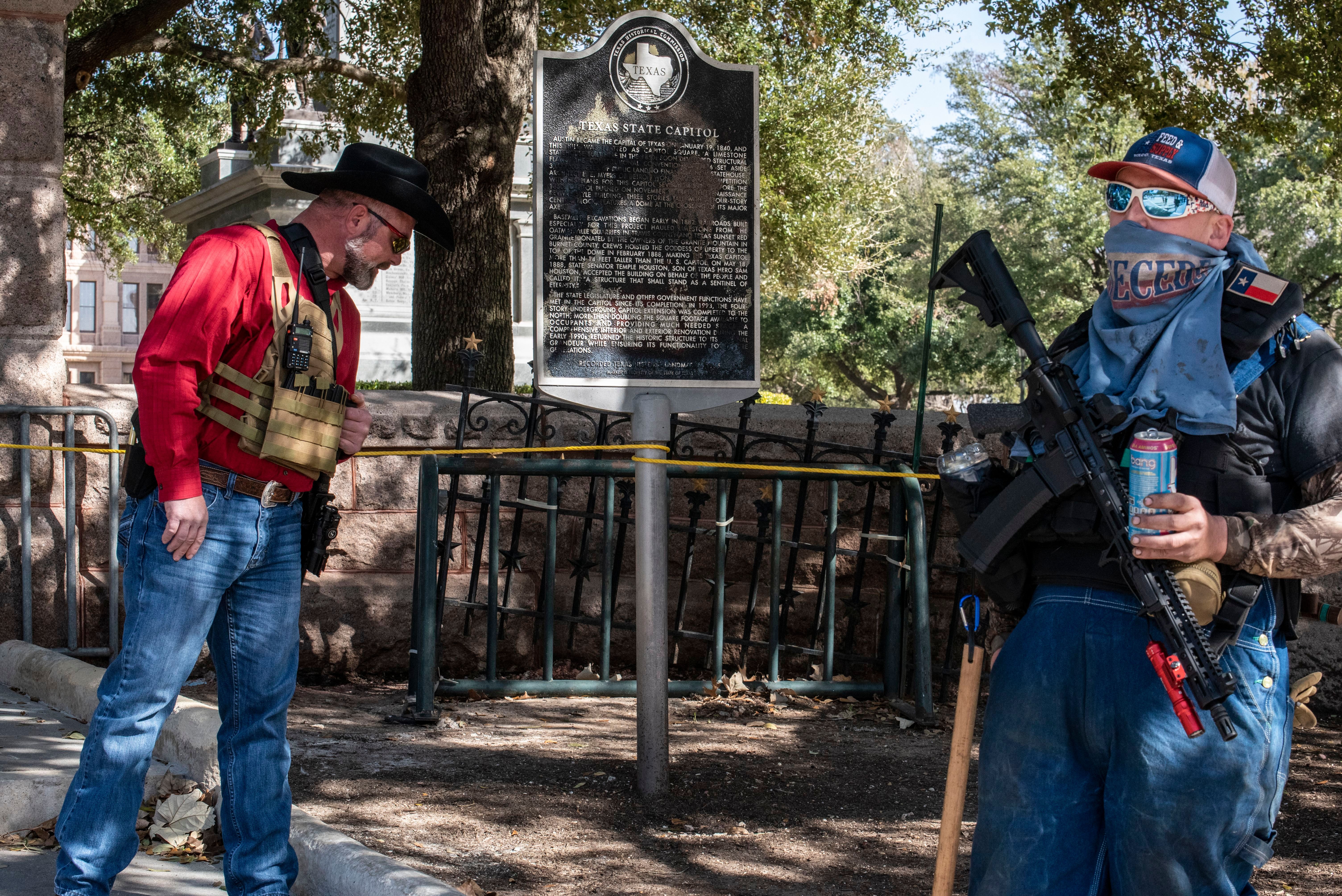 Trump supporters at a small rally outside the state capitol in Austin, Texas, Jan. 16. Authorities have closed state government buildings to the public through Jan. 20 after learning of plans for "armed protests" there, the
Austin American-Statesman
reports. Photo: Sergio Flores/Getty Images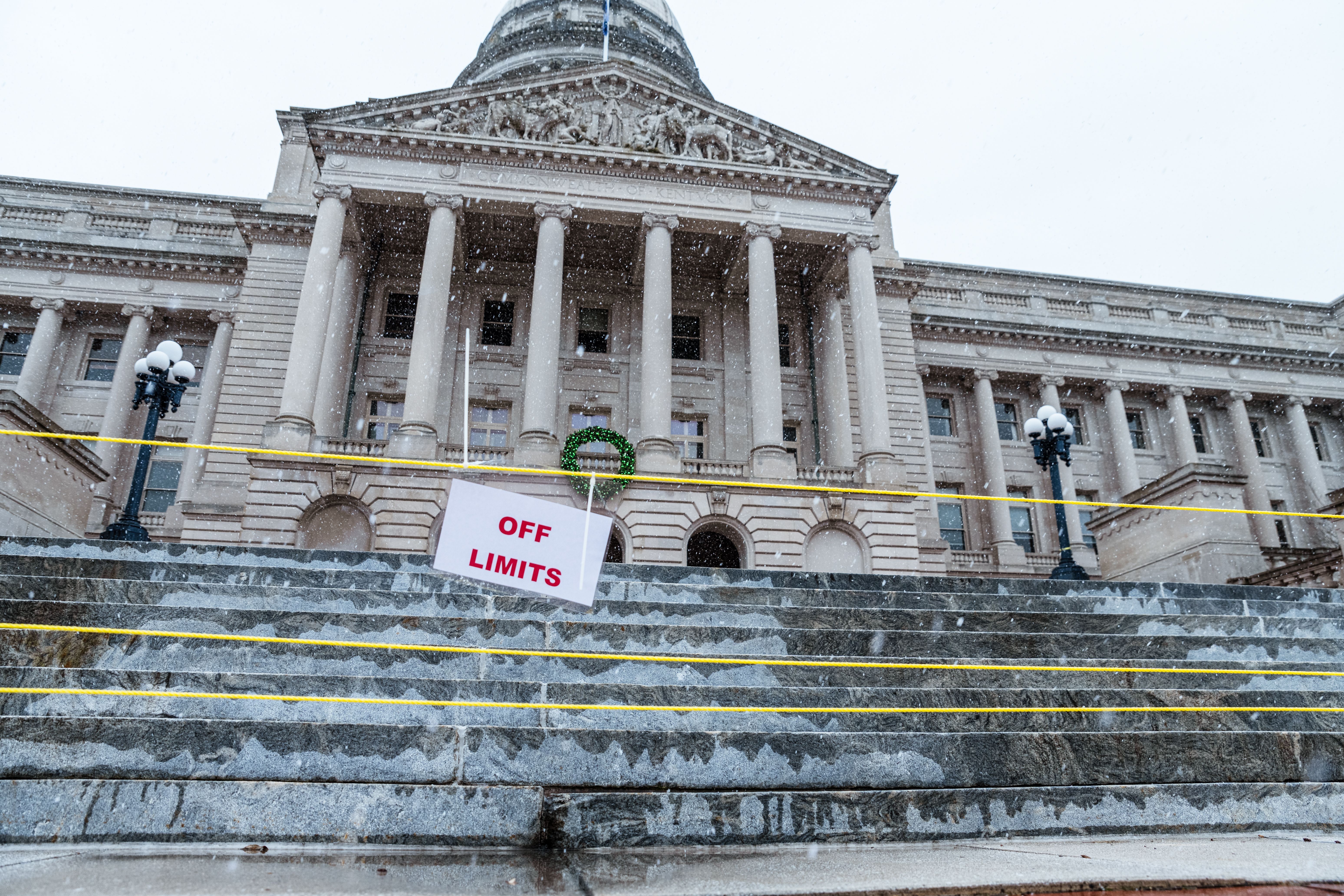 An "OFF LIMITS" sign at the steps of the Capitol Building in Frankfort, Kentucky, on Jan. 16. Gov.
Andy Beshear (D) announced
the state capitol will close Jan. 17, noting there have been "domestic terror threats against state capitols all over the United States." Photo: Jon Cherry/Getty Images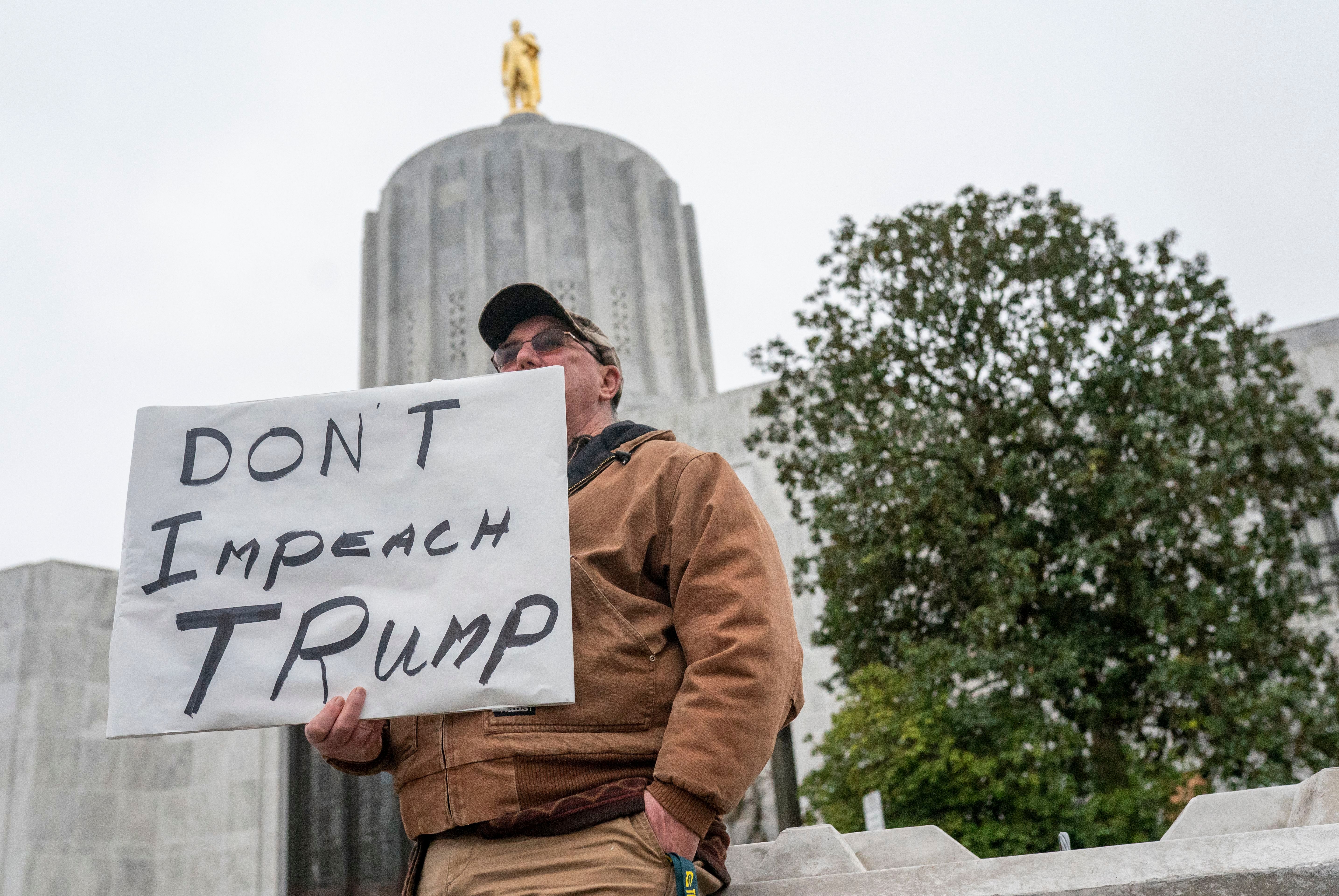 A lone Trump supporter in Salem, Oregon, on Jan. 16. Oregon State Police were doing frequent patrols and the state's National Guard was on standby, but only a handful of protesters showed up and there were no reports of trouble, the
Statesman Journal
notes. Photo: Nathan Howard/Getty Images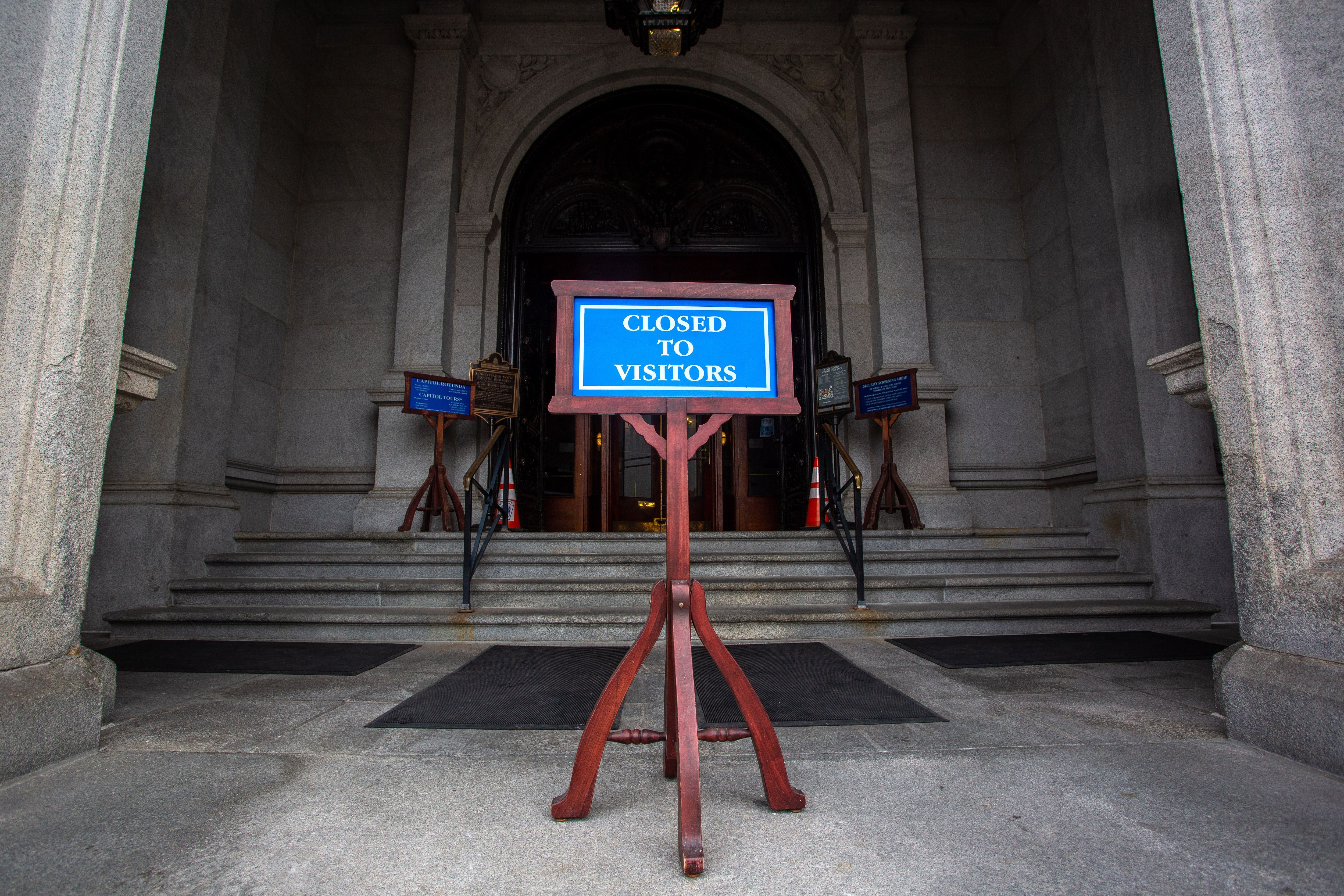 A sign on Jan. 14 notifies the public that the Pennsylvania State Capitol in Harrisburg is closed to visitors. The city's Mayor
Eric Papenfuse said
traffic will be restricted around the Capitol complex Jan. 17 and there'll be a strong police presence in the area. Photo: Paul Weaver/SOPA Images/LightRocket via Getty Images
PHOENIX: All quiet this morning at the Arizona State Capitol complex. A second line of fencing is up + barbed wire. #CapitolWatch @NewsNationNow pic.twitter.com/tB17SqucZP

— Nancy Loo (@NancyLoo) January 16, 2021
Gov. Gavin Newsom has activated 1,000 Cal Guard Soldiers and Airmen to protect lives and property and our 1st Amendment rights to peaceful free speech and assembly before Inauguration Day next week.https://t.co/uuB8w6TYGh

— The California National Guard (@CalGuard) January 15, 2021
Today, 9,500 National Guard Soldiers and Airmen from 46 states, 3 territories and DC are supporting civilian authorities responsible for the inauguration. #Inauguration2021 pic.twitter.com/SiyLbh6xJN

— National Guard (@USNationalGuard) January 16, 2021
Photos of the Day: National Guard Soldiers and Airmen from all 50 states, three territories and the District of Columbia are supporting law enforcement through the 59th Presidential Inauguration. More: https://t.co/26phd2dYnw 📷: https://t.co/oeZbLLd52Z #Inauguration2021 pic.twitter.com/GPL2L1W08s

— National Guard (@USNationalGuard) January 15, 2021